The Kalasatama district of Helsinki is gaining a reputation as an open-minded residential area in which conventions have been replaced with experiments. When work began to build one of Helsinki's largest residential areas in the old harbor and industrial area in the early 2010s, it was clear that the implementation of the project would have to support the City's later-defined ambitious plan to become carbon-neutral by 2035. This was around the same time that the overall construction of Kalasatama has been calculated to reach completion. At the same time, Kalasatama began to be referred to as a smart city district and an innovation platform for various urban innovations and new housing solutions.
The concept of a smart city is quite obscure to many. In simple terms, the concept has to do with using various – often digital – inventions in an attempt to collect and share information and data that can be used for creating new services. This way peoples' opportunities for participation can be increased while unnecessary consumption can be avoided, thus securing a better and more environmentally friendly everyday life. As such, a smart city can be built in an incredibly large number of ways.
In practice, this meant that the city welcomed companies, start-ups, and other innovators to Kalasatama to try out and implement different new technological solutions. The streets have served as testing grounds for self-driving buses, while the shopping center has housed a trial for a robot that delivered food orders to the residents of an adjacent apartment building, just to mention some of the pilots and experiments. Expert groups from all over the world have come to see the smart grid, the energy-efficient property automation, and the underground pipe system for collecting waste.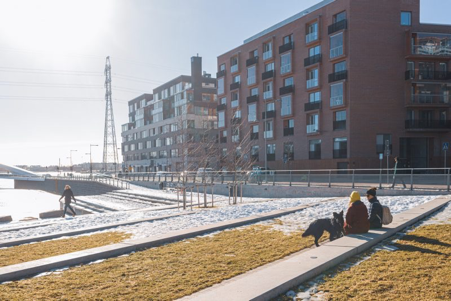 Since the very beginning, Kalasatama has served as a real-life testbed and living lab for smart and functional everyday life, involving a large number of businesses, researchers, and residents. This has generated global interest. In an article by New York Times, former US Ambassador to Finland Bruce Oreck commented that something unique is happening in Helsinki: "Helsinki is a city full of people waiting for the revolution. They really want to make the world a better place, and they're trying to lead by example. Which is a paradox, because Finns are decidedly not showy people."
A non-profit organization and member of the BEYOND consortium, Forum Virium has organized various co-creation activities and pilots to test and develop new services in the Kalasatama area over the last six years in the Smart Kalasatama project. Agile pilots provide immediate feedback on services still in development to both customers using them and businesses providing them. In BEYOND, FVH utilizes the Kalasatama district in various pilots that support the city to reach its Carbon-neutral Helsinki 2035 Action Plan.